Healthy naturally grown vegetables, mushrooms & the world's best eggs.
Growing for a healthier future
An awesome farm located in Claremont, North Carolia.
Over 50 varieties of seasonal vegetables.
Start to finish, all in one place.
Small flock, true free range.
Small batch healthy varieties.
Striving to provide the healthiest & tastiest produce possible to our customers.
We, as avowed city folk, rather haphazzardly decided to start a farm in 2017 because we "had some time to kill & wanted to grow some stuff". Since then, we have gotten reasonably good at growing things; so now we strive every day to have fun & grow a sustainable farming business that provides the local community with healthy options. It gives us great satisfaction that everything happens on the farm, starting from quality seed and finishing with the harvested produce, all done naturally, sustainably & with our hands right here in Claremont, North Carolina. Every year we get just a little bit better but still we are utter novices.
Seasonal veggies grown naturally all year round; it all starts with seeds and ends with our customers.
A lovely variety of gourmet & medicinal mushrooms grown right here on the farm.
We do not grow a lot of fruits, mainly the best strawberries to be found in the area.
Naturally, we grow things
We are forever experimenting & expanding but most of our effort go into these:
Seasonal vegetables: The mainstay of our farm. We grow year round and have produce every single week of the year.

Mushrooms: A little culinary sideline that has grown formidable in our operation.

Microgreens: The very first product we ever sold.

Eggs: Happy free-range hens, roaming & sometimes being annoying produce happy high quality eggs.

Strawberries: Available for a few weeks and normally sold out in advance.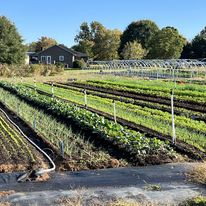 We sell almost exclusively at local Saturday Farmers markets, the details of our main markets are shown below.
Charlotte Regional Market
We have not missed a single Saturday at this market since 2018. Pre-orders can be picked up at this location.
We have been with this market since the start & happy to be part of the family. Pre-orders can be picked up at this location.
This year we also have a booth at the Hickory market on Saturdays. Pre-orders can be picked up at this location.
Sign up for our newsletter!
We plan to send out a monthly newsletter detailing various farm & farm related going's-on.